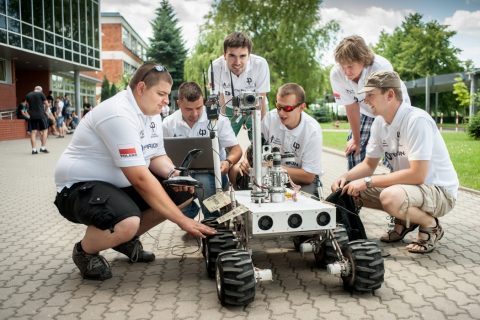 Studying abroad with the Erasmus+ Programme
Bialystok University of Technology cooperates with many academic centres all over the world. We have over 260 active agreements on cooperation. Under the Erasmus+ Programme you can study for 1 semester or 2 semesters at one of our partner universities, get to know other cultures and languages, and meet new friends. Every year, nearly 500 students take this opportunity. Universities in Italy, Spain, Portugal, and Denmark are very popular among our students and staff, while our university is mostly visited for a semester or two by guests from Portugal, Spain, and Turkey. International guest students can also apply as so-called free-movers, which means they can study for 1 or maximum 2 semesters without taking part in an exchange programme.
One diploma is not enough
A double diploma of Bialystok University of Technology and a foreign university? It is possible! We conduct double degree programmes together with universities from China, Portugal, Spain, Ukraine and Russia, France, Belarus, Kazakhstan, Kyrgyzstan, Ukraine, Belarus. We are especially proud of cooperation with our Chinese partners with whom we organise joint summer schools for students of Logistics.
More Information: Freemovers