Bialystok University of Technology in the Via Carpatia network. Assoc. Prof. Marta Kosior-Kazberuk, DSc, PhD, Eng, Rector of Bialystok University of Technology in 'Podlasie Manager' magazine
03-11-2022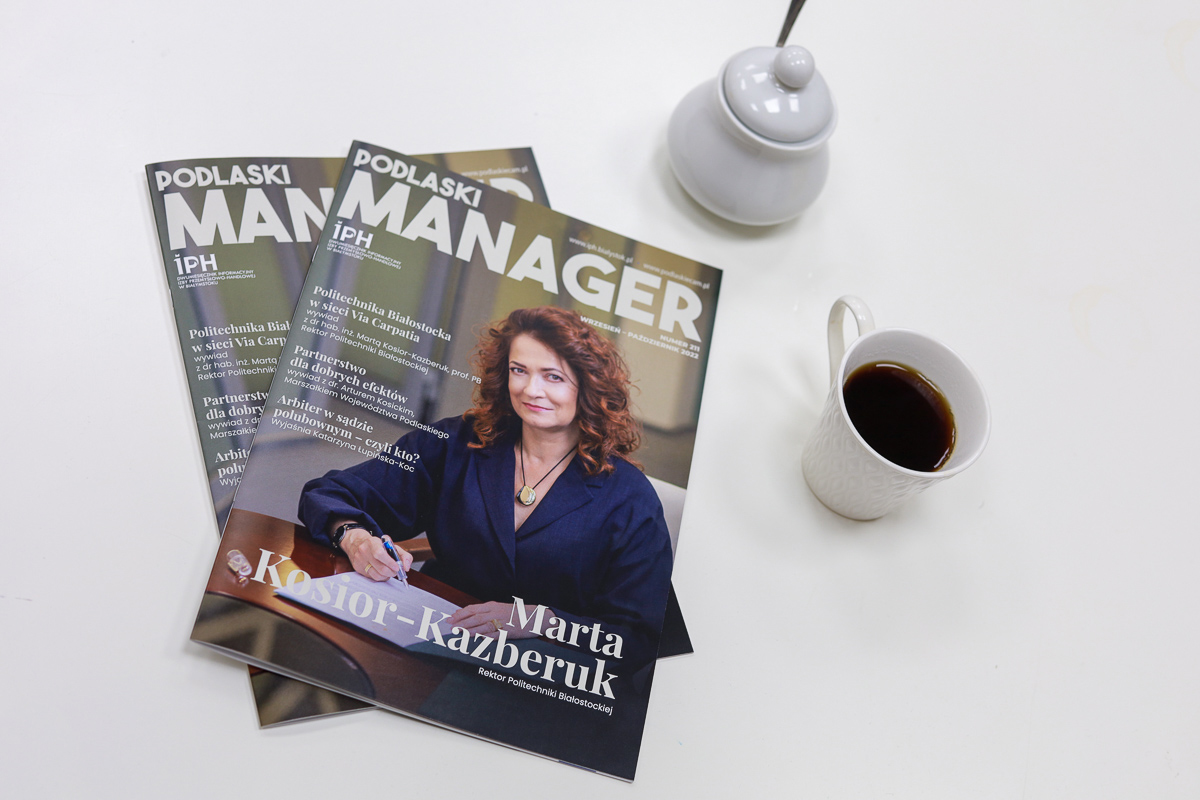 "Bialystok University of Technology in the Via Carpatia network" is the title of a conversation between Joanna Morawska and Assoc. Prof. Marta Kosior-Kazberuk, DSc, PhD, Eng, Rector of Bialystok University of Technology, which made it to the cover of the latest issue of Podlasie Manager.
Assoc. Prof. Marta Kosior-Kazberuk, DSc, PhD, Eng, Rector of Bialystok University of Technology, has been managing the largest technical university in north-eastern Poland since 2020. Since the beginning of her tenure, she has emphasized the importance of contacts with the socio-economic environment. This message is reinforced by the establishment of the Via Carpatia Polytechnic Network, an initiative that has found recognition and real support from the Ministry of Science and Higher Education.
Professor, every entrepreneur has probably heard of Via Carpathia, and what is the Via Carpathia Polytechnic Network?
Prof. Marta Kosior-Kazberuk, Rector of Bialystok University of Technology: It's an idea to connect the eastern wall of Poland, but also to connect the north with the south of Europe.
Just like the Via Carpatia route connects?
MKK: The route connects, but our idea is more than that. Each university has a network of partner schools and socio-economic partners. The Via Carpatia Polytechnic Network will allow schools and entrepreneurs to reach out in one common network. The idea is not only to connect the scientific potential of the three provinces of the eastern wall, but also to keep young people with us.
This is very interesting. As entrepreneurs, we have a keen interest in seeing young people join our companies. We value the education they get at Bialystok Technical University.
MKK: Thank you for your kind words and I hasten to explain the details of this still very fresh idea. Together with the Lublin University of Technology and the Rzeszow University of Technology, we have decided to create a network that will combine scientific activity with teaching and the commercialization of university achievements. Today, even the most solid education is not enough to succeed. It is worth knowing how to use it to achieve the desired results. Therefore, only cooperation with a vibrant business can give young people an excellent starting position. An example is the dual degree programme in electrical engineering at the Faculty of Electrical Engineering of Bialystok University of Technology. The programme developed jointly with companies in the industry, guaranteed paid internships and apprenticeships create a unique opportunity to find a job already during studies, to prove themselves in a specific profession. In such studies I see an opportunity to attract to universities undecided young people who would like to gain practical knowledge, but on a solid foundation of universal technical sciences. With the Via Carpatia Polytechnic Network, we want to encourage the study of technical sciences from an early age.
Who do you have in mind?
MKK: I could say that we actually start with pre-schoolers (smile). I would like to remind you that hundreds of kids have benefited from the lectures of the Podlasie Children's University for several years. The idea of our Via Carpathia is to support vocational education in technical schools within the framework of the Integrated Skills Strategy in close cooperation with the Board of Education and leading bodies. This support will consist, among other things, in concluding agreements between technical universities and schools, including patronage of technical classes with profiles in line with the fields of education conducted at the University. Under the agreements concluded, specific projects will be implemented, which include: organizing additional classes for vocational technician students conducted on the premises of BUT or the school by BUT employees, enabling students to participate in classes that are organized at the University, including, if possible, access to the laboratory base of the University, providing substantive care in making changes to the curricula and in organizing school competitions, joint events of a popular-scientific nature, such as open days, workshops, picnics, conferences, etc.
Great idea to attract tech students to the university.
MKK: Not just tech students. On 31 August, we signed an agreement with the renowned Secondary School no. 3 in Bialystok. As of September 1, the IB class is our patron class – a tech class. Our lecturers, but also students, will conduct classes in the secondary school, and secondary school students will be able to attend selected lectures at the University. Interest in the educational patronage of the University of Technology is very high.
You talk about Białystok, but what about students from smaller towns? There are high schools and technical schools there, too.
MKK: In our agreements and patronage, we are not limited to Białystok. Just on 1 June, we signed an agreement with representatives of the Grajewo district. This will allow us to establish even closer cooperation with secondary schools in the area, patronize profiled classes and establish comprehensive cooperation with the local socio-economic environment. The Via Carpatia Polytechnic Network is intended to provide equal opportunities to everyone. That refers both to secondary schools, as well as to first-year students in particular in mathematics, physics, chemistry, or other field of study. At technical universities, adequate preparation in science subjects plays a huge role in academic education and the acquisition of knowledge and technical skills, and insufficient knowledge from a secondary school is often the cause of failure at university. Supplementing this knowledge through the organization of additional courses will enable those who are admitted to university to continue their education and successfully complete their studies. Continuation of the programme of additional courses is of particular importance for technical universities from Eastern Poland, where young people, due to the economic situation of their families, often cannot afford additional paid classes. This action will allow to maintain an adequate level of education of the population in the Eastern Poland region.
What youth is used to, age remembers…
MKK: Involving students in the development of science is our plan for the future. Secondary schools will be able to participate in a competition for "mini research projects," and no fewer than 60 of the best projects will be submitted to the Via Carpathia programme for funding. The competition will conclude with an annual conference linking the universities of the Via Carpatia Polytechnic Network with secondary schools. The best projects will be presented at it, and a competition will be held for the best works in the context of usefulness to society, so as to promote the idea of science for society from the early years of education.
Indeed – such ideas are real support for young people who would like to develop.
MKK: Bialystok University of Technology provides versatile opportunities for development. There are more than 60 student research circles at the university. All of Europe can hear about their successes. From Mars rovers to Formula Student cars. Every year, our students design and build a new vehicle. Later, they race on real Formula 1 circuits – in Italy, Hungary, Austria or Germany. Both the design and durability of the car are assessed, as speed is limited to 120 km/h for safety reasons. However, they have to take a lot of curves. In the series of competitions in the summer 2022, in the final qualification, the Cerber Motorsport team from Bialystok University of Technology took fourth place among all European universities exhibiting their vehicles.
This is obvious, after all, the Faculty of Mechanical Engineering is the faculty with the greatest tradition at Bialystok University of Technology.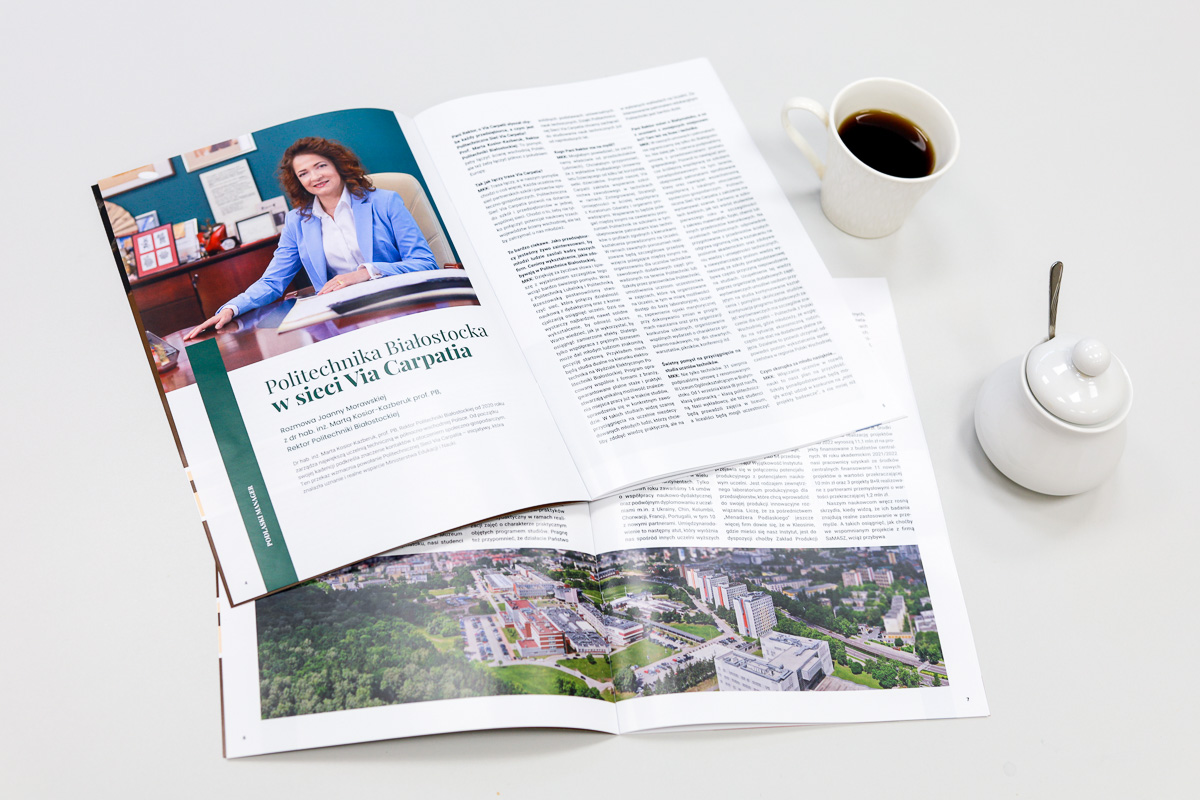 MKK: With tradition, but also responding to market needs. In the field of biomedical engineering, we train students who are already acquiring patents during their studies – for example, for a prosthetic limb for animals. This is exactly what the student research circles provide. And it is the Via Carpatia Polytechnic Network that will support the operation of scientific circles and the mutual exchange of ideas between partner universities.
I make no secret of the fact that entrepreneurs are counting on graduates from technical universities.
MKK: And we make no secret of the fact that we are keen on cooperation. In the past academic year, we cooperated closely on a multimillion project with SaMASZ, but we also signed agreements that give students the opportunity for internships and apprenticeships with companies such as ORLEN Serwis, Enea Ciepło sp. z o.o., ORLEN Asfalt, and even with the Police Commissioner of the Podlasie Garrison. We cooperate with four national parks, we have just refurbished a historic jet for the Army Museum in Białystok, our students designed the development of the Białystok Science and Technology Park, the enlargement of the State Fire Brigade's fire station in Hajnówka, or we taught students sensitivity when refreshing the visual identity of the Białystok hospice.
Thanks to our cooperation with entrepreneurs, we can also organise events of national importance in Bialystok. The best example is the fifth East Design Days, scheduled for November. This is a unique event on a national scale, which in addition to promoting modern design or promoting wood as a material of the future in modern architecture, also deals with the phenomenon of food design. Thanks to panel discussions, young and creative people from the region have the opportunity to learn from the masters of entrepreneurship and exchange experiences with similar enthusiasts. The number of companies involved in the event proves that East Design Days is already a recognisable brand among both the region's residents and enthusiastic entrepreneurs.
We constantly consult with them on proposed educational programmes and involve employers-practitioners in the didactic process as part of the implementation of practical activities included in the study programme. I would also like to remind you that you are actively involved in the business councils of each of the University's faculties. I would like to thank you for this cooperation and invite other companies that care about the welfare of the region and the quality of education at Bialystok University of Technology. It simply pays off for everyone.
Thanks to our Via Carpatia, we are hoping to raise additional funds that will enable us to increase the remuneration to businesses for delivering such courses. Such cooperation with external stakeholders, focused on local business, will also enable students to carry out work placements in more of the region's best companies.
As entrepreneurs, we are counting on the fresh perspective of young engineers graduating from Bialystok University of Technology
MKK: Bialystok University of Technology has almost 300 agreements signed within the Erasmus+ programme. Our students can gain experience, learn about studies and laboratories in many countries on several continents. Last year alone, we concluded 14 agreements on scientific and didactic cooperation and double degree programmes with universities from, among others, Ukraine, China, Colombia, Croatia, France, Portugal, including 10 with new partners. Internationalisation is another asset that sets us apart from other universities in the region. Once again, in the Perspektywy ranking, we are in the leading position in the number of foreign students studying at Bialystok University of Technology in relation to the total number of students. So the experience can be shared both in Białystok and almost anywhere in the world where there is a technical university of a sufficiently high standard. In total, we have obtained more than PLN 1 million and EUR 1.4 million in projects for internationalisation alone in the 2021/22 academic year.
And what do you offer business 'just now'?
MKK: For the last 10 years we have had a special purpose vehicle – the Institute of Innovation and Technology of Bialystok University of Technology. In November 2021, it has already become the Research and Development Centre. Such a title, granted by the Minister of Economic Development and Technology, has so far been held by only 54 companies in the country! The uniqueness of the Institute manifests itself in the combination of the production potential and the scientific potential of the university. It is a kind of external production laboratory for enterprises that want to introduce innovative solutions into their production. I hope that through 'Podlasie Manager', even more companies will learn that in Kleosin, where our Institute is located, there is an Experimental Production and Technical Services Department, which specialises in metal machining, but also in prototyping, difficult and unique services. It has a reputation on the market as a place where any object can be made, even one that theoretically cannot be made. We hope to create and promote a list of top R&D activities of the partner universities together with entrepreneurs.
Currently, the University is implementing 28 projects financed from central funds (EU, NCBiR, MEiN, OP&E, operational programmes) with a total value of approximately PLN 128 million. In addition, we are implementing 9 R&D projects with industrial partners, with a total value of approximately PLN 6.4 million. Funds disbursed for the implementation of projects in 2022 amount to: PLN 11.1 million for projects funded from central budgets. In the academic year 2021/2022, our staff received funding from central budgets for 11 new projects worth more than PLN 10 million, and 3 R&D projects with industrial partners, worth more than PLN 1.2 million.
Our scientists spread their wings when they see that their research finds real application in industry. And there are more and more such achievements, such as the aforementioned project with SaMASZ.
---