CMS-08 racing car won 2nd place in the Engineering Design Event of the Formula SAE Italy!
18-07-2022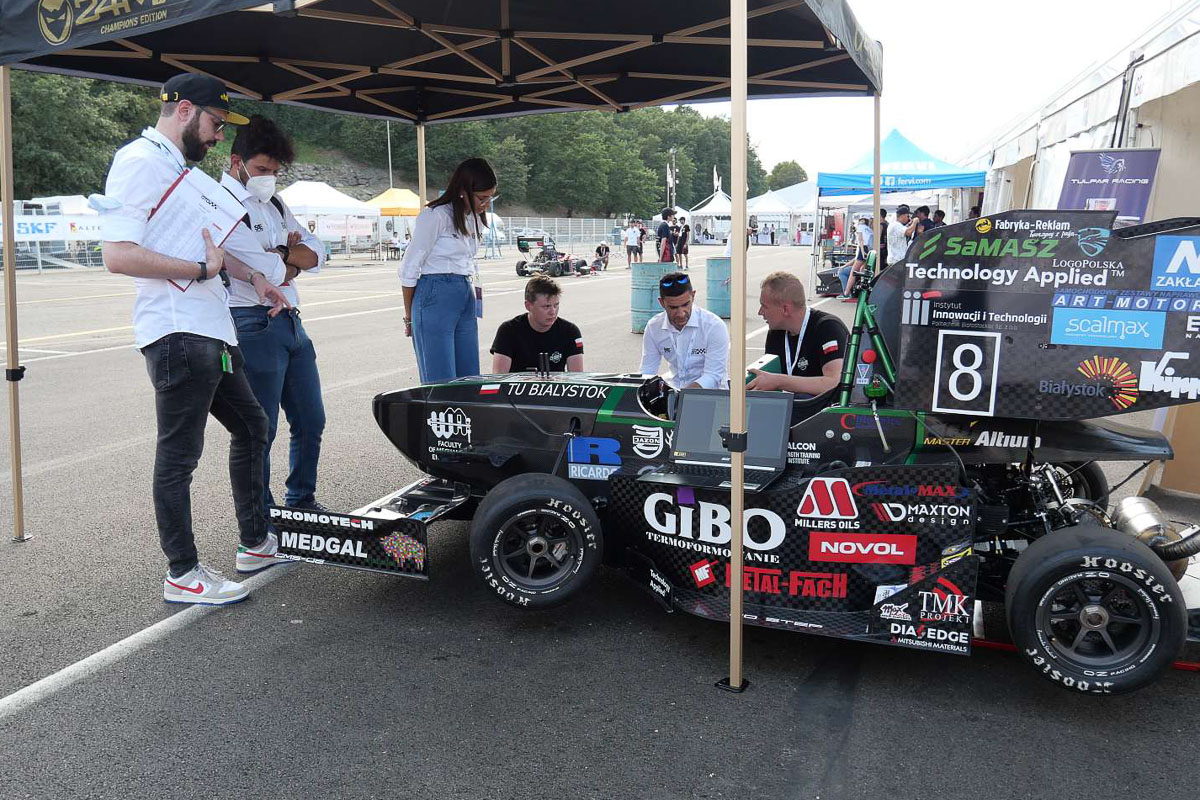 The CMS-08 racing car of the Cerber Motorsport team from Bialystok University of Technology has won 2nd place in the Formula SAE Italy competition in the Engineering Design Event! The success is all the more satisfying because in this most important static competition, issues relevant to the work of an engineer are taken into account, such as original ideas, execution methods and unusual technological solutions.
The first series of Formula Student competitions crowned with the success of the CMS-08 racing car! The Cerber Motorsport team from the Faculty of Mechanical Engineering of Bialystok University of Technology reached the finals of the Engineering Design Event at the Formula SAE Italy competition, where they won 2nd place! For the BUT team, this award is the culmination of a year of work on the CMS-08 car – from the design of the racing car to its production. The team received the award during the fifth and final day of the competition in Italy.
But the successes do not end there. Certainly, the team's completion of the extremely demanding Endurance Dynamic Competition is also a major achievement. It is worth noting that this year's track conditions were extremely difficult. At almost 50 degrees of heated concrete and over 35 degrees of air, the team covered 22 km of track! Deepest congratulations to the drivers – Patryk Siekaniec and Julian Rząca, who demonstrated above-average endurance in this competition. Other drivers who took part in the remaining dynamic competitions were Tomasz Sobolewski and Kacper Stasiewicz.
Is the success at the competition in Italy a harbinger of further achievements for the team on the biggest race tracks in Europe? We hope so! The team of engineers from Bialystok University of Technology is awaiting a summary of the remaining static and dynamic competitions from Formula SAE Italy, but has already set off for another series of competitions today. This time the race car competition will take place on the demanding Most Autodrome racetrack during Formula Student Czech Republic and will last until 24 July. Fingers crossed!
In the 2022 season, students from Cerber Motorsport will compete in the following competitions:
Formula Student Czech Republic 18.07 – 24.07.2022
Formula Student Austria 24.07 – 28.07.2022
Formula Student EAST 08.08 – 12.08.2022
Formula Student Germany 15.08 – 21.08.2022.
Students from the Faculty of Mechanical Engineering, Faculty of Computer Science, Faculty of Electrical Engineeringworked together on the CMS-08 car.

Technical specifications of the CMS-08 car:

– weight: 215 kg

– Honda CBR 600 RR engine – adapted to the design project

– acceleration from 0 to 100 km/h – 3.8 sec.

– top speed – 125 km/h

– 57 Nm of torque at 8900 RPM

– 82 horsepower at 9200 RPM

– sequential gearbox

– 158.7 kg of downforce at 100 km/h

Solutions used:

– fully adjustable multi-link suspension allowing full adjustment to changing track conditions,

– hybrid superstructure – combining a steel spaceframe with a composite "monocoque" for increased rigidity,

– laminated safety rim,

– display responsible for displaying and storing the most important operating parameters,

– telemetry equipped with 33 sensors,

– engine cover to reduce drag,

– active cooling of the engine area,

– proprietary camshafts,

– modified engine block, which enabled the use of an improved engine sump,

– more efficient and lighter cooling system,

– limited-slip differential with preload control,

– drag reduction system (DRS).

The authorities of the City of Bialystok support student travel to competitions outside Poland.

Subsidised by the Minister of Science and Higher Education with funds from the state budget as part of the programme 'Studenckie koła naukowe tworzą innowacje'.

Partners:

Bialystok University of Technology, Faculty of Mechanical Engineering of Bialystok University of Technology, GIBO, Metal Fach, Neva, Technology Applied, Marshal's Office of Podlaskie Voivodeship, City of Bialystok, Student Self-Government of Bialystok University of Technology, Scalmax, Jazon, Novol, Art-Motor, SMP, TMK PROJECT, Institute of Innovation and Technology of Bialystok University of Technology, Symkom, Kipp, Norelem, Diaedge, Millers Oils, Medgal, ECU MASTER, Metal Max, Maxton Desing, Grm, Bianar, SaMasz, 3dconnexion, SIMP, RICARDO, Solidworks, Ansys, Premium Solutions, Rosłoniec Radiators, SolidCAM, PZM, Automobilklub Podlaski, Tor Białystok, Moto Park Ułęż, PROMOTECH, ROMEK, Altium, FALCON, Falcon Strength Training Institute, MEiN

The Cerber Motorsport teamoperating within the Student Auto-Moto-Club at the Faculty of Mechanical Engineering of Bialystok University of Technology. The organisation was established in November 2011 by 17 students, passionate about cars. Over the years, more than 200 people have worked on eight generations of CMS cars. Today, the team consists of 31 people and is divided into 6 sub-teams: Aerodynamics, Electronics, Suspension, Engine and Propulsion, Superstructure, Marketing. The main objective of the Student Club is to win the top position in the prestigious international Formula Student competitions. They are held annually in more than 15 countries, with more than 800 teams, which is almost 31,000 members. Students design and build a car that competes against teams from all over the world. Winning the competition is not only determined by the speed of the car, construction, financial and sales planning are equally important. The competition is divided into static and more spectacular dynamic competitions. Judges are mainly constructors closely associated with the automotive industry.

As the first Polish team, Cerber Motorsport podiumed at the Formula SAE Italy competition in 2016. This competition also brought second places in the competitions: Acceleration, Endurance and Skidpad. The following years also saw a series of successes. One of the most important goals of the Student Club is to create an ever better car and to introduce innovative solutions to improve its performance, which translates into winning places. Combining theory with practice, and at the same time having fun and competing are synonymous with the Cerber Motorsport Team.

Photos from Formula SAE Italy




by mz
---