The SumoMasters team successful again
17-11-2021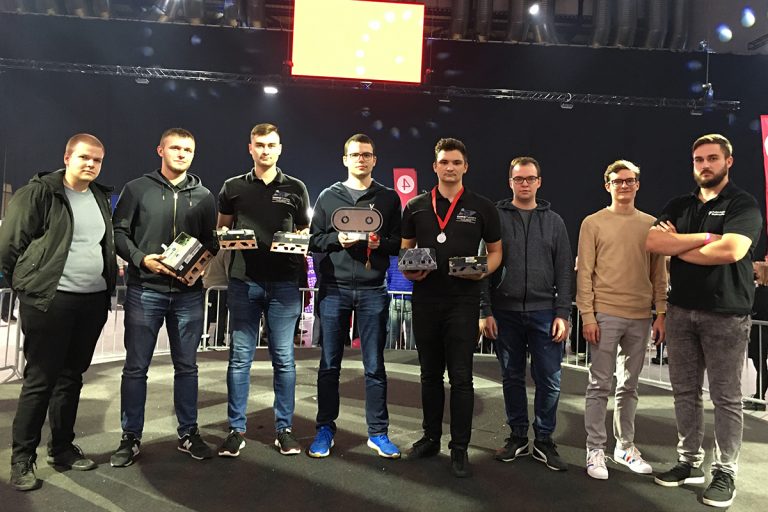 From 5 to 7 November 2021, the SumoMasters team from the Robotics Student Association of the Faculty of Mechanical Engineering, consisting of: Marcin Dziubek, Łukasz Kotarski, Michał Falkowski, Mateusz Święcki, Piotr Wasilewski, Kacper Zaleski, Rafał Grabowski, Przemysław Pysiński, Janusz Chmaruk, Mateusz Orłowski under the supervision of Rafał Grądzki, PhD participated in Robotex 2021 – the international competition in Tallinn, Estonia.
The team from the Robotics Student Association participated in two competitions – Mini and MegaSumo with 8 robots in total. In the MiniSumo category, the Mini Shiny robot completed the group phase, and in the grand finale it was awarded a very high 2nd place.
However, in the MegaSumo category, as two years ago, we managed to take all three podium places: the 1st prize for the Javelin robot, the 2nd – Masakrator, the 3rd – Ace.
The Robotex International is one of the largest robotics festivals in Eastern Europe. Due to the pandemic, last year's edition was cancelled. Unfortunately, because of a large number of infections, teams from Latvia or Romania could not take part in the current edition, which we had hoped for quite strongly, in order to observe how the constructions ranked among the world's top have changed in the last two years. I am also very satisfied with the 2nd place in the mini category. After the competition in Columbia, the robot was modified, and that gave us a high place in Robotex 2021. There are still few issues that can be modified and tested in the robot's construction – said Rafał Grądzki, PhD, SumoMasters coordinator.
We are also pleased with the presence of new countries: Spain, Italy, Cyprus, Russia. This time, students from Bialystok University of Technology were practically the only "mentors", repeatedly giving advice on how to improve constructions and what mistakes were made during their design. It will surely result in a higher level of future competitions. I am also very happy that the organisers managed to make this edition international. We could see that people were happy to meet, talk and compete in robotics competitions – added Rafał Grądzki, PhD, the SumoMasters coordinator.
To build and improve their machines and to participate in competitions, the team of the Robotics Student Association received financial support from the Ministry of Science and Higher Education (under the project "The best of the best! 4.0"), the Faculty of Mechanical Engineering of Bialystok University of Technology, Wenglor and Faulhaber.
---