Erasmus Without Paper Initiative and Federated Login
09-08-2021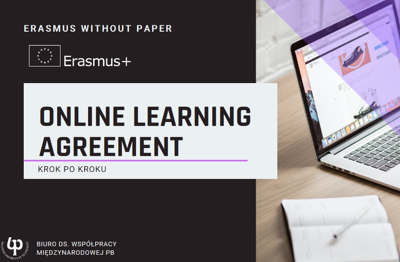 Starting from the next academic year, higher education institutions participating in the Erasmus+ programme will be obliged to exchange paperless documentation related to student mobility under the
Erasmus Without Paper (EWP)
initiative. Our Office, together with the University IT Centre (pl.
Uczelniane Centrum Informatyczne
) and the Wide Area Network Centre (pl.
Centrum Komputerowych Sieci Rozległych, CKSR
), is currently working on the implementation of tools allowing for digital handling of projects.
BUT has joined eduGAIN and thanks to that students and staff members of Bialystok University of Technology will be able to use the federated login which is currently being introduced by the International Relations Office (pl. Biuro ds. Współpracy Międzynarodowej, BWM) and the Wide Area Network Centre. This project will allow the whole academic community for easy access not only to systems dedicated to the Erasmus+ programme but also to international services and platforms dedicated to science and research, e.g.:
– Online Learning Agreement (https://learning-agreement.eu/)
– Erasmus+App (https://erasmusapp.eu/)
– ORCID (https://orcid.org/) – the ability to link and log in to existing accounts
– CloudStor (https://cloudstor-uat.aarnet.edu.au)
– SketchEngine (https://www.sketchengine.eu/)
– Science Data (https://sciencedata.dk/) and many others.
The federated login will also provide access to selected local services, such as the bazawiedzy.pb.edu.pl, nauka.pb.edu.pl or box.biaman.pl systems, with the possibility of further integration with other local systems at BUT, if necessary.
With the federated login, students going abroad for Erasmus+ will be able to use the Online Learning Agreement (OLA) and Erasmus+App tools to fully plan their studies digitally without having to create a new account.
Last Wednesday, students going abroad in the upcoming winter semester attended a meeting with Marta Orpik from the International Relations Office (pl. Biuro ds. Współpracy Międzynarodowej, BWM), who discussed the federated login and OLA preparation step by step (presentation from the meeting). Additionally, the full possibilities of the service are presented in the video demonstration.
After entering the login and password one time in one browser session, the central login point https://login.pb.edu.pl will allow students to access national and international services as well as selected local Bialystok University of Technology systems.
We hope that the introduction of the above solutions at BUT will be a great improvement for our students and staff.
---