Guest Lecture Series on Sustainable Development Goals at ITS Surabaya
31-08-2021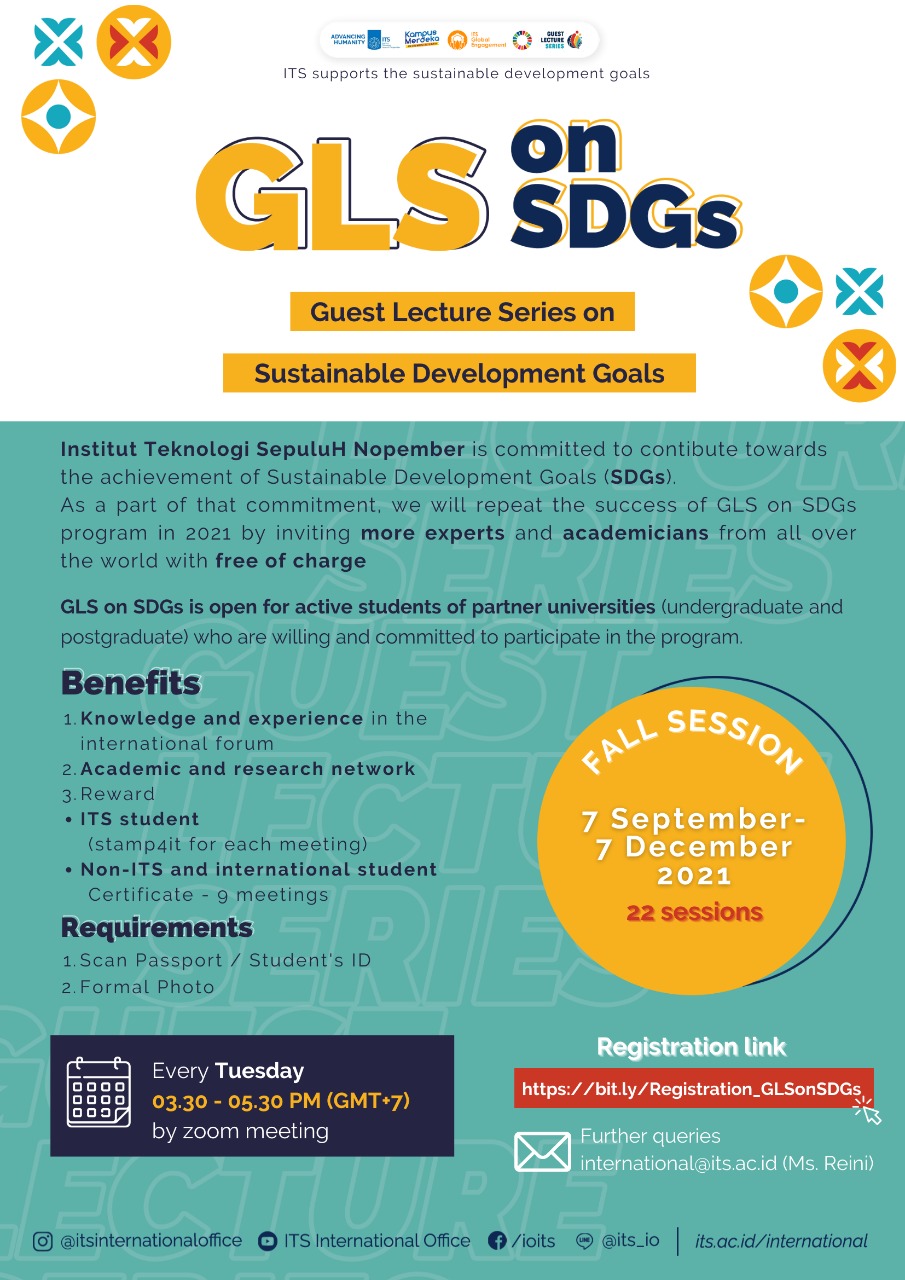 Institut Teknologi Sepuluh Nopember is committed to support the global effort in reaching UN's Sustainable Development Goals (UN SDG) through education and impactful projects. ITS has been ranked 64th in the 2021 Times Higher Education Impact Rankings based on achievements in SDGs, which shows that ITS is committed for this purpose. As part of our efforts to promote awareness on topics of the UN's Sustainable Development Goals (SDGs), ITS has launched the Guest Lecture Series on Sustainable Development Goals (GLS SDGs) since 2020, and ITS continues this program for the Fall Semester 2021, from September 2021 until December 2021.
For the upcoming events, ITS invites students and all global audience to enjoy 22 selected online lectures on GLS SDGs for Fall 2021 (September – December 2021) which will be delivered by international speakers. Each meeting will be conducted weekly every Tuesday that consists of a 120-minute public lecture and Q&A session.
GLS SDGs is free of charge and the registration will be opened every Thursday and will be closed every Monday prior to the individual event.
Participants can also do a one-time registration in which they can select individual events they are interested in. Zoom meetings link will be sent to the registrants prior to the event.
ITS provides a certificate of participation for international students who attends at least 9 meetings (from the total 22 meetings).
For further information, please do not hesitate to contact Ms. Reini at international@its.ac.id or visit the ITS website.
---